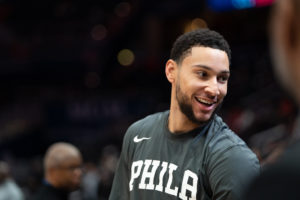 I will cut to the chase on this one… I guess Ben Simmons is not trying to "Trust The Process" at the Philadelphia '76ers with this new suspension days into the new season. So remember the kids back in high school that was trouble makers but no one figured out what their deal was? In my opinion, Ben Simmons is that person for not just the '76ers but also for the NBA in general.
For the troubled youth, you have to first relate to them to figure out who they are. Ben is a grown man in this case, but the rules still apply. Ben had to grow up quickly from being a star athlete at LSU to coming in as I would very loosely say "the promised one" for the Philadelphia 76ers. He had everything they needed… well kind of. The kind of part tipped the scale when the pressure from the media, the city, and everyone else landed on the young shoulders of Ben Simmons.
"I don't care about that man, honestly. He does whatever he wants." – Joel Embid
Let's peel back the layers a bit more on Ben Simmons. The hype around him coming into the league can be a talking point as a factor. As a promised pick in the 2016 draft organizations knew certain players you buy-in for the development as well as play into the hype that one day this player will bring home the championship (a new-aged pipe dream but still). The problem with how reality played out is that he became injury-prone way too soon into his career. Starting from November 2017 to May 2021 Ben Simmons has gone through injury after injury like elbow, ankle, back, wrist, etc., and that has stunted his growth as the dominant athlete that was projected. Don't get me wrong, he can still ball… but to the best of his ability? His game has been underdeveloped due to all these factors plus the mental toll I can imagine. Imagine the same group of people year after year season after season that used to smile your way or encourage you has now started to turn their back towards you. When Joel Embid was asked about his current teammate Ben Simmons he responded "At this point I don't care about that man, honestly. He does whatever he wants."
Yes, this is a team sport but in this case, the one bad apple was or is starting to spoil the bunch. Ben Simmons recent lack of cooperation to be a team player has given the '76ers some bad publicity heading into the new NBA season. Yes, I get it. We all get it. Ben Simmons does not want to be there and he is trying to pull a Julio Jones technique of not really being a team player ("I'm just here so I don't get fined") method to make an open point to not only the organization but to the rest of the NBA. He wants out, but the method used is not always a sure thing.
Just days into the official season became the start of the boiling point Coach Doc Rivers threw Ben Simmons out of practice and was handed a suspension for one game for "Detrimental Conduct". As much as basketball is a game, the NBA is a business. Teams will not be rushing to pick up an injury-prone disruptive player just because he wants to leave Philly. Problems with his physical mental and now social have caused some concerns, which is unfortunate. Do you think this method will get him out of Philadelphia or is it time to hang it up early?