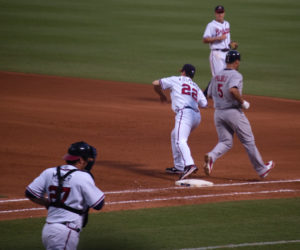 Success comes at a cost. If you didn't know that by now boys and girls this is your new fun fact for the day. The Atlanta Braves started off the season with promise, but like all great stories, character development makes it worth the wait. Below are a few notable people I would like to mention below that made this Atlanta championship team a special one.
The youngest isa 23-year-old outfielder Adam Duvall, he was unsigned at the start of spring training and had yet to make the major leagues. He's been diagnosed with type 1 diabetes, a disease that affects over 1.6 million Americans.
Another player to mention is outfielder Joc Pederson. Covid-19 last year messed up a lot of schedules for athletes, Joc included. Even in bizarre circumstances, he was able to be a part of last year's World Series Championship team the LA Dodgers. Even though he won his first championship, this year after being traded he had to make a name for himself other than the guy that wears the pearl necklace.
What is a great plat without family rivalry? The Braves were no different with the father and son battle. The father, Braves manager Brian Snitker had to face his son Troy Snitker this year as the Houston Astros hitting coach.
Ron Washington,a coach for the Atlanta Braves also showed his tenure to the game of baseball. He played professionally from 1971 to 1990 before he hung up the cleats. The game never left him… well he never left the game once he became a coach for Washington. Once as a player and two times as a coach he was able to make it to the World Series but not taste victory. Over 50 years of dedication he had another chance yesterday.
Shoot even the city of Atlanta. Time and time again they have struggled to be a note-worthy championship team. Close hasn't been good enough since 1995. It is their first win in 26 years.
The 2021 Atlanta Braves team not only had diversity, but a great backstory to match. They earned a long-awaited trophy the city of Atlanta needed to keep their sports hopes alive. It's been 26 years of course so it's been worth the wait. The cost of that wait could be your health, the world shutting down, bragging rights at the dinner table, or just aplain test of patience. These individuals as well as the rest of the Braves made it clear that the choice of success is worth every penny.