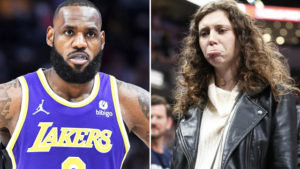 As an athlete, the more you advance in your career the more criticism comes your way. Fans and enemies increase so it's imperative to learn how to "block out the noise". Sometimes the attacks even crack through the toughest armor, like LeBron James's a 19-year veteran at the Indiana Pacer's game the other night.
There are some mixed reviews as I dive into this. Post-Covid, the initial feelings of fans back in the building have been a refreshing attempt to get back to normalcy. Fans have the freedom of speech to say whatever they want to encourage or throw off the players in a game. Nowadays fans say some outrageous stuff to the biggest basketball icon of our recent generation LeBron James. (Just a reminder fans have even heckled about his mom's alleged affair with former teammate Delonte West in a game before.)
The battle of power was on full display when it came to "the customer is always right" freedom of speech and the legacy and current dominance of LeBron James in control of the NBA. The fans heckled LeBron telling him they hoped Bronny (his oldest son) died in a car crash.
"there's a difference between cheering on your home faithful… and then there's moments where it goes outside the lines," Lebron James by ClutchPoints. "When obscene gestures and languages come into it – can't be tolerated."
Once the threshold of tolerance was crossed LeBron stopped the game and got the referee and stadium staff involved to get two of the fans ejected. Initially, the internet trolled LeBron just by the way he stopped the game because he was clearly upset. (Unfortunately, this is not the first time LeBron has used his power to get fans ejected out of a game.) After further investigation fans that were actually there at the game were able to shed a light on the issue.
"I was there.. it was more than those two but they were the loudest. The girl said "I hope Bronny dies in a car wreck," the guy kept chirping like a chicken sound "Bronny's a bih bih bih." It was very weird and they were asked by staff to cool it once or twice," one fan wrote.
As we can see… common sense isn't common. Yes, you have the right to say whatever you want, but also realize there are causes and effects to your actions. Have the yin and yang of sports and fans started to come to a breaking point post-Covid ?