Question: Did President Obama actually give an order that could have saved the USA from a Covid-19 type pandemic?
Answer: Yes he did.
Queston: What happened with his order?
Answer: Dr. Fauci found a way to disobey the order, using the bureaucracy to ignore a Presidential order.
Here is the back story. Incredible advancement in genomic research led to a novel type of research called 'Gain of Function virus Research'. The goal here is to create more powerful, more infectious viruses in a lab environment by mixing up functionalities from other deadly viruses. The intention was scientifically noble, as the goal was to develop technologies to fight more deadly viruses in advance of any outbreak. This way, we know our viral enemy before it shows up, which allows us to prepare treatment or vaccines without going through the devastation of an outbreak. The NIH institute of allergy was the primary source of funding for such research, not just in the USA but all over the world. These viruses developed in the lab are designed to be more dangerous and if released into the general population, by accident or otherwise, could devastate the populations of the world. Given the risk of a man-made pandemic, President Obama wisely decided to not only pull funding, but ban such research in the USA.
So yes, President Obama, did indeed ban gain of function research, including funding for it.
So what did Dr. Fauci do? He ignored the ban, found a way around it, and continued funding the same research through external contracts, including funding this gain of function research at the Wuhan institute of virology in China.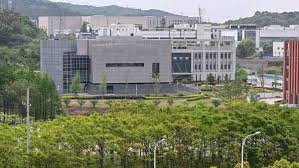 The actual coid-19 virus closely matches the backbone of the man-made version created from Dr. Fauci's gain of function research. Could this be a coincidence? Maybe, but it will take crazy events from distance locations to perfectly align and do impossible and only spread near a lab that creates man-made viruses.
Regardless of what you think, these are the types of investigations the Congress should engage in. Not to get Dr. Fauci in trouble, but to stop such blatant disregard of Presidential orders that could lead to something more deadly in the future.
So, does Dr. Fauci have something to hide? You judge for yourself. Could this explain all his flip-flops and non-scientific advocacy? Judge for yourselves again.
First about masks.
See how he gets made fun of, for his anti-science statements. Were all these statements deliberate?
And in this final one, he admits lying on herd immunity. It is almost like he just says whatever comes to his mind.
With Dr. Fauci still being a key player in the fight against this dangerous pandemic, all America has to do is pray, as he is only concerned about himself and not the safety and wellbeing of the people.