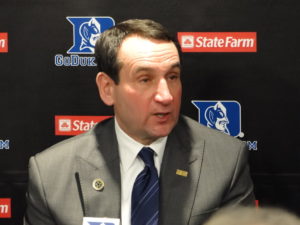 I don't usually talk about college sports but this one is a special occasion. To me, it is not only about tradition but also breaking records consistently. There has been one constant to the longevity of the game while everything else has changed. Players, rules, adversaries, etc. have come and go but in college sports, there has always been one thing…well I must say person… that has always been there. The name I am talking about is Coach Krzyzewski, affectionally known as "Coach K". What's surprising… but realistically expected… is that the start of this college basketball season it will be his last basketball season after 41 years.
He is the Greatest Of All Time for several reasons. As a young man, he was a leader on and off the court being a captain of his Army basketball team at the United States Military Academy at West Point. He also was an officer in the Army and directed service teams. So it was only natural to have the leadership and discipline to take advantage of earning the position of Duke University Head Basketball Coach in 1980.
I am not even a duke basketball fan personally but what I do know is when you think of Duke you think of two things, Coach K and winning. He made it a tradition to expect to excel in the craft you are invested in. Six years in Coach K lead Duke to their first ACC Championship March 9, 1986. The back-to-back national championships came in 1991 and 92 seasons. He made Duke a household name, but not only that he was able to achieve some personal coaching accolades as well. Coach K passed Dean Smith for most all-time NCAA tournament wins in 2005, Bob Knight for most wins in D-1 men's basketball history in 2011 and, Pat Summitt for most wins by a men's or women's sports all-time in 2018.
There have been good times and bad times but as odd enough the sports world never thought Coach K would say this is the last time during this 2021/2022 season. I applaud him for weathering the storm season after season year and year in not just sports but in life. I mean keeping a job is not always the easiest thing in the world and he is in his 70s doing it. Outside looking in I give him his respect for choosing to deal with multiple personalities and moods of not only players but coaching staff and organizations generations after generation.
If you don't get anything out of this article get this: Through it all when you look at his career it was always a choice. He chose day after day to show up regardless of how great or bad the situation is… and I am going to take a guess and assume that is the same in his personal life for the most part. Success is a choice on whether you are committed to whatever you are trying to achieve in life. Choices matter, and when it comes to longevity choosing wisely consistently will help you navigate whatever you are going through despite the ups and downs wins and losses. Currently, for Duke Basketball their current season is undefeated so far, but regardless they are in good hands with Coach K.