She is finally home! But at what cost?
It's right in front of our faces and we don't usually pay attention. On this episode of weird American history, we will add to the books that Brittney Griner is officially free from prison. What makes this special plus what does it have to deal with a love affair? We need to rewind the clock a little bit to get a better insight.
Basketball Star Brittney Griner was an electric household name for not only Baylor when she played college basketball, but also for her WNBA team Phoenix Mercury. This time she is making headlines for her recent exchange with Russia. The WNBA star was detained for marijuana possession in Russia for a couple of years as continual tension rises between Russia and the United States.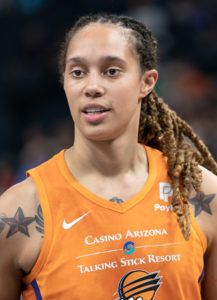 Griner's exchange was not normal when it comes to international exchanges for criminals. In exchange for her, The United States gave a Russian arms dealer for Griner's release. There are mixed reviews as she is now on her way home, regardless, she is now added to the bizarre history of famous basketball players and international affairs. One of the most famous interactions between foreign governments is the close relationship between Chicago Bulls legend Dennis Rodman and North Korea's Kim Jong Un.
We as a global society forget how powerful sports can play a part in the fabric of our lives. Yes, professional basketball players and celebrities are people, but some may debate if they are qualified or should be used for international affairs. Celebrity athletes show once again that fame might not have any bounds in all aspects of life. Just a thought, but is it a coincidence that she is released right as the new political season takes full swing?