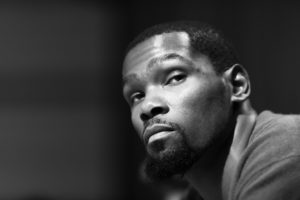 At this point when it comes to a classic Stephen A. Smith rant you either love what he is saying or you think it's ridiculous. I will say on this one he is making sense to me. This is a quick breakdown of Kevin Durant aka KD and why he messed up big time.
Let's rewind the clock a little bit. Kevin Durant not only became an NBA Champion with the Golden State Warriors but was able to win back-to-back titles with them in 2018 and 2019. Things were great until he had a fallout with the organization as well as tearing his Achilles. The Warriors were no longer willing to fight alongside him and it was time for him to look elsewhere.
Here is the thing: There has been growing recruitment throughout the offseason and even sometimes within the season. What makes this different from the times before is that the main recruiters are no longer organizations or agents but the players themselves. After years and years of playing against opponents, you grow to respect not only their game but also the player themselves. Relationships are important in sports in all aspects. More and more you see players convince their counterparts to join the same team based on relationships, KD was no different. From other media outlets, it appeared that Kyrie Irving approached KD to join him at Brooklyn Nets. It's all good in theory … but in actuality, it wasn't the case so far.
This past Tuesday Brooklyn came to Gold State and they didn't have a chance. Old teammate Steph Curry seemed to be on another planet doing whatever he wanted while casually dropping 37 points. (Seriously though, Steph has been on fire this season, not only has he passed Ray Allen recently for most 3 pointers made he is on his way to breaking his own record yet again with over 402 three-points this season alone.) The Warriors beat Brooklyn 117-99 and the excitement of the KD trade has seemed to fade away quickly.
It is that simple, you got to get it together – Stephen A. Smith
With Kyrie nowhere in sight (on the court) Stephen A. Smith made it plain and clear on his show via First Take. "KD you made the wrong decision bro, and here's why: because you trusted Kyrie. Kyrie Irving betrayed you. Flat out betrayed you."
KD is all alone holding up a team that has turned his back on him once again. Kyrie isn't playing, James Hardin is barely playing like himself. No team, no fans, no culture, no point in wasting your time letting your friends make career moves that can legitimately ruin your basketball legacy. Stephen went on to say he is sorry for KD and I agree to a point. Potential can not be banked on especially when it's focused on you liking one person out of the 5 man basketball team. You live and you learn KD, it's just sad seeing the crumble when you can not do anything about it. Hopefully, the Brooklyn Nets can quickly turn this season around but I doubt it.