New Kings of LA? LA Clippers 2021 Playoff Run…Will They Succeed or Choke as Usual?
For a while now, LA Clippers have been living in the shadow of LA Lakers, and for a good reason, since they seem to choke, every time pressure is turned on them. Their efforts haven't amounted to much lately, even with the addition of Kawhi Leonard and Paul George.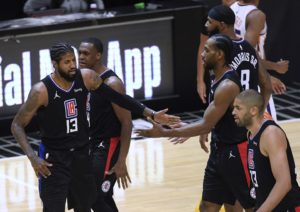 However, this season seems to be going their way after LA Lakers were eliminated in the first round. This gives LA Clippers a chance to shine and show everyone that they're not the failures people think they are. Even so, they still need to deal with Utah Jazz, who have so far proven to be a thorn on their side.
Clippers VS Jazz statistics
Going with the current statistics, Utah Jazz holds an advantage over the Clippers, where they won the first two games, with Clippers making a comeback and winning the third. They did show a bit of promise in game 3, where they made over 50 percent of the shots from the field and 3 point land. On the other hand, Jazz were poor, with Donovan Mitchell playing through pain, despite insisting he's okay.
Kahwi Leonard and Paul George are living up to the expectation with a contribution of 65 points between them, versus the Jazz, with Leonard scoring 34 points and George scoring 31 points in game 3.
Clippers' semifinal undesirable history
Clippers have lost all their conference semifinals and have never played in the conference finals. The last time they played in the conference semifinals, they lost to Nuggets, with the other times losing to Rockets and Thunder. Their most humiliating defeat was against Spurs, where they failed to win a single game.
Now that the Lakers are out, Clippers only need to overcome Jazz and not choke in the process. If they can achieve this, then they'll be in the conference finals and get weeks of media coverage and perhaps even convince everyone that they're no longer LA Laker's little brothers.