Richard Sherman Arrested. Why Major Sport Leagues and Sports Media Must start promoting positive Black Culture!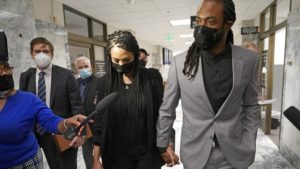 Richard Sherman, a former member of the Seattle Seahawks and San Francisco 49ers, was arrested in Seattle on Wednesday morning and charged with "Burglary Domestic Violence."
It's headlines and videos like this that continue to truly promote suppression and marginalization of the Black community. These videos and headlines get excessive coverage, compared to any stories that promote behaviors contrary to this sort of disgraceful and ghetto promoting behaviors. Could sports media do better to advertise the good, instead of attempting to adopt an incarceration culture?
Let's dive into LeBron James coverage for a moment. Here is a common example of an excerpt used by media everywhere.
He relocated around half a dozen times in fourth grade and missed nearly 100 days of school. His father's identity was a mystery to him. The man he referred to as his father was incarcerated. He'd never participated in organized sports and had no idea who he was or what he wanted to do with his life.
Why doesn't the media instead focus on the positive lifestyle lived by LeBron?
He is a good father. He has vowed not the repeat his father's mistake and abandon his children. He set up the LeBron James Family Foundation. The foundation raises money for several charities. These include Boys and Girls Clubs of America, the Children's Defense Fund, and Gabriel's Angle Foundation, just to name a few.
LeBron is a proud dad, quoted as saying "My daughter is the greatest thing in my life, along with my boys," he said. "So, whenever she smiles, it don't matter what I'm doing, it makes me happy." Given that the greatest pandemic facing the black community is absentee fathers, highlighting stories like good a proud fatherhood among black celebrity and athletes will go a long way to lift up the community.
The media should be able to find ways to focus on positive stories. It enables sports fans to see the clean side of the black culture. When specifically talking about Black culture, we need to get away from the ghetto angle.
Richard Sherman Arrested. This should not consume the news cycle like it is, causing the community to glamorize violence.