NBA Preseason: LeBron and The Lakers are 0-5.
Is it time to panic or is LeBron right when he asks for patience? Can the new super team anchored by the trio of Anthony Davis, Russell Westbrook and LeBron James be trusted to cruise through the western conference into the NBA finals?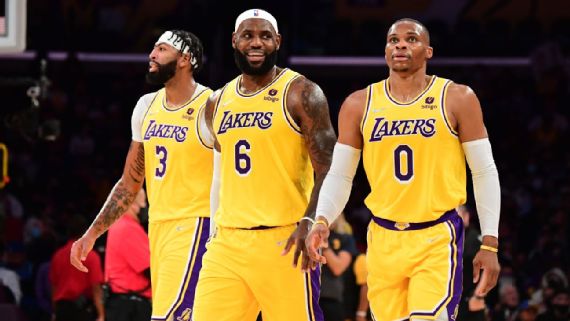 LeBron Must Consider Effects of Father Time.
You can usually count on LeBron James, but the man is not 25 years old anymore. If the last few seasons are an indication, father time eventually catches up with the best of them. Anthony Davis is still a young, dominant big man, but he has a history of injuries. In addition to that, he has not shown evidence that he takes good care of his body. Will he breakdown again like he did last year? If he does, the lakers have no chance. Finally we get to Russell Westbrook. Will LeBron's presence contain his erratic playing style? If that happens, then watch out for the Lakers.
The Big Three Preached Patience.
After the Pre-Season loss to the Golden State Warriors, the Lakers Big-Three preached patience. How long will this patience last. Lakers fans are not a patient bunch. The Lakers trio better start showing progress early before the tenacious LA media market begins to pounce. LeBron said quote:
"It's going to take a minute for us to become the team that we know we are going to be capable of being,"
"It's all about being patient with the process and understating that we're going to have frustrating moments." LeBron James with @LakersReporter on being patient with the #Lakers building chemistry & understanding with a largely new roster. pic.twitter.com/uYrkZVz3ir

— Spectrum SportsNet (@SpectrumSN) October 13, 2021
This quote from LeBron does not breed confidence. The Lakers need to ignore the projections of their championship chances and focus on getting the job done. Without such focus, they will have to contend with the usually irrational Lakers fans.
To begin with, they need to find a way to forget about their external ventures and give the game some respect. In this pre-season game, they found a way to discuss about their Netflix series 'Squid Game'. Does anyone see a pattern here, relative to LeBron's first season with the Lakers where basketball was not his primary focus? The results then were disastrous. Can the current talent composition overcome the distraction?
NBA Preseason: LeBron and The Lakers are 0-5. Remember this is just the pre-season.
Good luck to them.