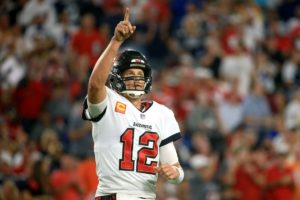 As we prepare for the upcoming basketball season questions are raised towards the one… greatest of all time (aka G.O.A.T.) to play football, Tom Brady. Even though the majority of his career was at the New England Patriots the sports world thought he was taking an "active vacation" with the Tampa Bay Buccaneers. Once again he proved everyone wrong by giving Tampa their first Super Bowl title as well as adding a 6th title to his legendary resume.
So why does this matter right now? Well, first things first at the ripe old age of 44 he has pushed his body to the limits for literally decades defining the odds. The second is that the forever athlete is injured. This is not his first injury by far but he has taken such good care of his body and played through injuries before that he hasn't missed a game due to injury since 2008. Anything could be a career-ending injury at this point of his career but to make matters worse the third point is that the injury is involving his throwing hand, the moneymaker, the hand of all hands that have passed the NFL all-time passing record recently.
Everyone could freak out at the Tampa Bay camp, but in a press conference in Tampa when speaking to reporters Brady does what he does best, respond in a cool and collective manner. When asked he responded Tuesday " You deal with different bumps and bruises over the course of the year. It's just this bump and bruise happens to be on my hand… Again I feel confident that I will be able to go out there and do what I need to do."
Typical Tom Brady fashion, responding well under pressure. We know he will be preventive and cautious but we couldn't help to think about when he will finally retire. Tom Brady discussed that his injury does not mean he will be out of the game or playing at such a high level. Only he knows how long he truly will not be able to play like his original self. Should the retirement planning committee get together or wait it out a couple more years?