Citizens across the United States are in the final stretch of picking the next President. Either the current President is re-elected to a new 4-year term or a new president is elected to a first 4-year term. In most cases, the results are known on the night of the election, but as things stand right now, that will only be the case if we get a big blowout.
So who will win?
If you talk to the Trump campaign, they really think the President will win in a landslide. On the other hand, the Biden campaign is confident they will win big and put the President to shame. So which team can be believed? According to real clear politics average, Joe Biden is heading to a landslide victory. https://fivethirtyeight.com/ gives Joe Biden 89% chance of winning the presidency.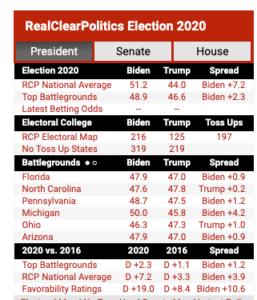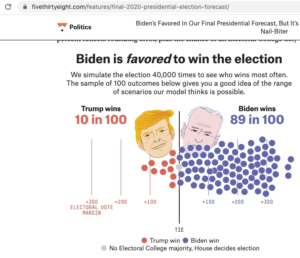 You see, Joe Biden's confidence is based on the polls. Will this hold. Not if you look at 2016, when all polls predicted Hillary Clinton will win, only to be shocked by Donald Trump.
Based on recent history, one could argue that Trump's confidence is based on his performance in the last election cycle.
Politico.com has a nice simulator that is a fun exercise and it highlights the fact that this election is super close and we may be in for a long night.