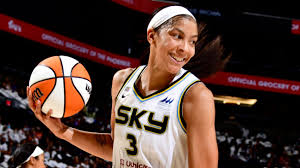 The beauty of sports is that it is so multifaceted with similarities to life outside the game. There are winners and losers, heroes and villains, plus origin stories that make people invested in a particular sport or team. When the world temporarily shut down in historic fashion, sports became the outlet that people gravitated towards when everything appeared grim. Basketball had a big spotlight, especially the WNBA.
Since the WNBA impactful impression last year they are reaping the benefits. Candace Parker is a house hold name who was able to create her own lane in basketball history. She has always been a powerful force in the WNBA winning league MVP her rookie year. After a few successful years and a championship under her belt, later she did what most still are not doing in both men's and women's basketball. She went home.
Growing up in the city of Chicago I can imagine she knew the feeling about supporting a championship team (Chicago Bulls). Now was her turn to make history in Chicago in her first season back with the Chicago Sky. A legend on the court she was able to take this 6th seed team through round after round creating upsets along the way. The final was a sure fairytale ending for Candace Parker with the game-tying 3 in the final minutes and putting it all out on the floor with 16 points, 12 rebounds, 5 assists, and 4 steals. This is 2nd championship in her career and the very first in history in the Chicago Sky. The comeback kid delivered and through hard work plus trailblazing her path in history this Sunday night she showed the world that there's no place like home. Take a bow Queen Candace, take a bow.